Manchester riots: More than 230 arrests made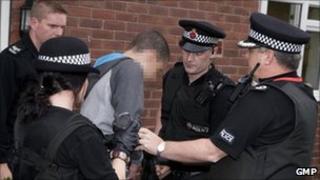 Police have made more than 230 arrests in connection with the violence and disorder in Manchester and Salford earlier in the week.
More than 130 people have been charged. Police are working to identify suspects and execute further warrants.
The Bishop of Manchester has blamed the rioting across England on an "erosion of public morals".
The Right Reverend Nigel McCulloch said a "moral vacuum" in private and public life has reached all levels of society.
He said many believed the riots were little more than "a smash and grab spree" in a sermon for BBC Radio 4's Sunday Worship programme.
"Something has gone badly wrong," he said.
"The result is a me-first consumerist culture in which the quest for a possession of things overrides a caring concern for people and the key commandments become don't get caught and don't grass."
Police said people were helping identify rioters as part of their Shop A Looter campaign and said they had been "inundated" with tip-offs.
Assistant Chief Constable Gary Shewan said they wanted to identify everyone involved and would not rest until they do.
There were no incidents of disorder on Saturday night.