Walk to commemorate Peterloo Massacre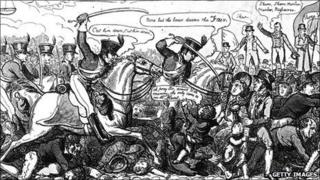 A walk to commemorate a bloody chapter in Manchester's history, the Peterloo Massacre, is taking place.
Up to 15 people were killed and 700 injured when militia attacked pro-democracy campaigners at St Peter's Fields on 16 August 1819.
Mill workers were marching in the 19th Century to demand parliamentary reform.
Campaigners are retracing the steps of the original march into the city centre to honour those who died.
The procession from Barrowfields in Cheapside, Middleton, to Peter's Field in Manchester retraces the historic steps taken by universal suffrage campaigner Sam Bamford when he led 6,000 workers from Middleton to the city centre.
There are plans for a new memorial to the Peterloo Massacre in the St Peter's Square area in the city.
A book listing the injuries suffered by the crowd at the Peterloo Massacre is one of first 10 documents included in the UK Memory of the World Register for UNESCO.