Manchester rioters to be banned from city centre shops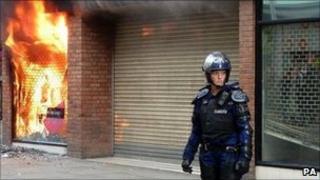 People who took part in rioting in Manchester will be banned from city centre shops.
Anyone convicted of looting or public order offences will be barred from 400 stores, which sign up to the civil exclusion scheme, for two years.
They include all shops in the Arndale, the Triangle, as well as Selfridges, Marks and Spencer and Harvey Nichols.
Police have arrested more than 240 people over Tuesday's disturbances.
More than 150 have been charged following violence and looting in both Manchester city centre and Salford.
The names and pictures of those convicted will be added to an offender database and shared with shops, the city's management company CityCo says.
The individuals will be written to and told they are banned.
Councillor Pat Karney, the council's city centre spokesman, said: "The scenes we witnessed on Tuesday night were shocking and we cannot tolerate this kind of behaviour in Manchester.
"The civil exclusion scheme is already doing a fantastic job and it makes sense to add these disgraceful individuals, who show complete disregard for others people's property, to the list."
Rob Dyson, head of CityCo's business crime reduction partnership, added: "The public disorder last week has had a tremendous impact on our retailers and has damaged the local economy.
"We want to send out a strong message that Manchester's business community is standing together and those that disrespect our city are not welcome and will not be allowed to enjoy it."