Senior GMP officer believes US police 'could learn from us'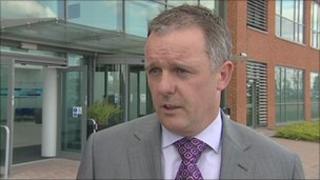 A senior Greater Manchester Police (GMP) officer has said forces in the US could learn more from their UK counterparts than the other way round.
Det Ch Supt Darren Shenton spoke out after it emerged the Prime Minister has appointed a new crime adviser, the US "supercop" Bill Bratton.
Mr Bratton is due to meet David Cameron next month to discuss violence in English cities, following the riots.
He has headed both the New York and Los Angeles police departments.
Mr Shenton, who has visited US forces on behalf of GMP, said: "I think there are always opportunities to learn.
"I don't think we are as arrogant to think that what we do here in Manchester is the best.
"That is why we share our experiences and ideas with colleagues up and down the country.
"But one of the things that really struck me when I went to America, and indeed when they came over to see what took place here, is that they would probably learn more from us than we probably could from them."
'Aggressive response'
Mr Bratton is credited with restoring law and order in Los Angeles after the riots there in 1992. He has a reputation for being a tough-talking and zero tolerance officer.
Mr Cameron's decision to bring him in has already seen criticism from other senior officers and police federations.
Sir Hugh Orde, former head of the Association of Chief Police Officers, said previously: "I am not sure I want to learn about gangs from an area of America that has 400 of them."
Mr Shenton said the US police response was very different because American residents had the right to bear arms.
They have a "very tactical and aggressive responsive", he said. "You have got to look at sustainability," he added.
He said the community in Greater Manchester had been key in helping to tackle gun and gang crime.
"They really are fantastic in terms of saying enough's enough," he said.
GMP said it had arrested more than 250 people following rioting in Manchester city centre and Salford on 9 August.
Of those, more than 150 have been charged with a variety of offences ranging from theft and public order offences to burglary and carrying an offensive weapon.
Some have already been convicted and sentenced by magistrates. Others, accused of the more serious crimes, have had their cases sent to the crown court.
The first cases to be dealt with by the crown court are due to be heard later.