Video appeal over Manchester Miss Selfridge riot arson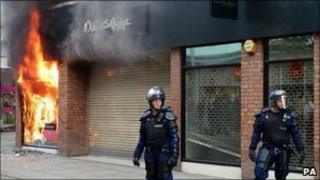 People who have video or mobile phone footage of the arson attack on the Miss Selfridge shop in Manchester's riots are being urged to contact police.
The store was destroyed in a blaze started at 18:30 BST during the disturbances in Market Street on 9 August.
Police also want to hear from any witnesses who were in the area.
An 18-year-old man has been charged with criminal damage and recklessly endangering life.
The disorder caused £400,000 worth of damage to the building.
Det Sgt Jim Slack said: "On Tuesday last week we saw unprecedented scenes of violence and destruction. Dozens of stores were targeted but this shop in particular was completely destroyed.
"We know there were a lot of people in the area when the fire was started and I am keen to hear from as many of those as possible."
He added: "I am also interested in getting hold of any footage that was taken on a video camera or mobile phone showing the incident."