Manchester riots: Council to issue Asbos to rioters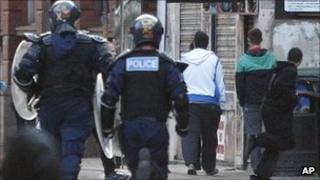 Known troublemakers convicted of being involved in the riots in Manchester will also be issued with an Asbo, the city council has said.
A spokesman said the Asbos would target those who have a long history of criminal or anti-social behaviour.
The council also said that parents who had turned in children to the police would be offered parenting support.
Council tenants involved with the riots have already been warned about the possibility of eviction.
The spokesman said the council was gathering information and would "consider a wide range of powers to clamp down on those involved".
'Not the end'
The measures could also include tenancy injunctions, which may ban council tenants from entering specific areas, such as the city centre, or from threatening violence.
Anyone breaking either an Asbo or a tenancy injunction could be arrested and face a prison sentence.
Councillor Paul Andrews, executive member for neighbourhood services, praised the police and the Crown Prosecution Service for the punishments that had already been handed out and said that the council would follow their lead.
"The violence and criminality seen in Manchester city centre last week was some of the worst that the city has ever experienced, and the police and crown prosecution service have done an excellent job of putting hundreds of people involved through the courts.
"Now, we're warning them that this is not the end.
"We have a wide range of powers to use against people who make life hell for Manchester residents and businesses and we'll be putting these to use for those responsible.
"We're looking closely at all Manchester cases and those involved can expect to hear from us soon."