Manchester riots: Looting student 'should have known better'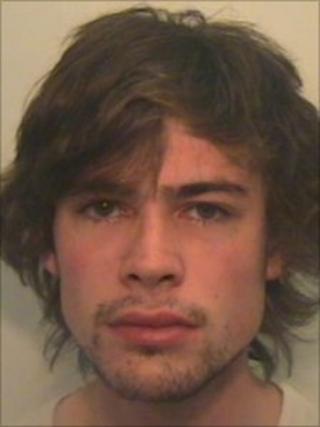 A university student who has been jailed for taking part in Manchester's city centre riots was told by a judge he "should have known better".
Aberystwyth University student Conrad McGrath, 21, was caught looting alcohol from a Tesco Express store in Oxford Street, Manchester on 9 August.
He was jailed at Manchester Crown Court for 16 months.
McGrath, of Heaton Norris, admitted taking a few bottles of alcohol which he dropped when police arrived.
The English undergraduate, of Burton Street, went into the shop after a mob had forced open the shutters. He dropped the bottles when police arrived.
Judge Robert Atherton told the defendant, who pleaded guilty to burglary at an earlier hearing: "You followed the example of others by squeezing under the shutter and seeing what you could steal."
"You came into the city despite the advice of friends and your mother.
"That was stupid and you should have known better.
"You are a student at university and you have thrown away a lot. It is a heavy price to pay for such behaviour."
Prosecutors said CCTV caught a group of about 40 rioters attacking the store, forcing open external doors and an internal shutter.
So many people were pictured involved in the attack that it was "impossible" for the police to identify those who forced entry, Gavin Howie, prosecuting, said.
Tesco said about £4,000 of stock had been stolen and £7,000 worth of damage was caused to the store.
'Perplexed and bewildered'
McGrath was not in the group who started the attack on the store, Mr Howie said, but was among four people squeezing through a gap in the shutters and looting the shop.
Daniel Gaskell, mitigating, said: "He had a life to look forward to and, as a result of a very brief period of offending, he is worried that all that will be swept away."
Mr Gaskell also said the student's family was "perplexed and bewildered" by his behaviour.
Apprentice bricklayer Lloyd Coudjoe, 20, was also jailed for 16 months for looting the store.
He took one bottle of alcohol, the court heard, which he dropped when he tried to flee police.
Coudjoe, of Quenby Street in Hulme, was caught when a police dog gave chase and "nipped" him, Mr Howie said.