Miss Selfridge shop fire charges dropped against teen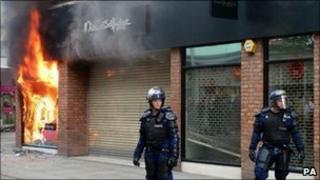 An 18-year-old man who was held in custody accused of setting fire to a Miss Selfridge store during riots in Manchester has had his charges dropped.
Dane Williamson of Broughton Road, Salford, was charged with criminal damage and being reckless over property damage or endangering life.
He had been remanded to Forest Bank prison by Manchester magistrates but has now been released without charge.
Police said a 50-year-old man had been arrested on suspicion of arson.
The man has been bailed until September pending further inquiries.
Mr Williamson's solicitor said after he was charged, that it was a case of mistaken identity.
He appeared at Manchester Crown Court on Thursday where a provisional trial date was set for January next year but he was informed later that day that the case had been discontinued.
'Undermined case'
A spokeswoman for the Crown Prosecution Service said: "In accordance with The Code for Crown Prosecutors all cases are subject to continuous review.
"We carried out a further review of this case following the discovery of new information by the police during their proactive investigation and concluded that there was no longer sufficient evidence for a realistic prospect of conviction.
"The evidence against Mr Williamson was based on recognition from visual recordings. However following the charge the police discovered CCTV footage which significantly undermined the case."
Greater Manchester Police said: "Following consultation with the Crown Prosecution Service the case of Dane Williamson of Broughton Road, Salford who was charged with criminal damage, recklessly endangering life has been discontinued. He has now been released without charge."
During his time in custody Mr Williamson's flat was seriously damaged by fire on 15 August at about 00:30 BST.
A GMP spokeswoman said: "No-one was injured. The cause of the fire is still under investigation but is not believed to be deliberate."
Miss Selfridge in Market Street, was set on fire on the evening of 9 August, causing damage estimated at £300,000.