'Manchester moment' crowds gather on Market Street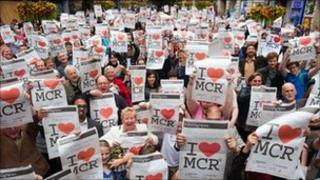 People from across Greater Manchester have gathered in the city centre to show their support for businesses after trade was damaged by the riots.
Many used free tram vouchers to travel in or took up the Arndale Centre's offer of free parking.
The city council had urged people to gather in Market Street at 14:00 BST to take part in the 'Manchester moment' by holding up 'I Love MCR' posters.
The number of shoppers over the previous weekend dropped by a quarter.
Councillor Pat Karney, Manchester City Council's city centre spokesman said: "The people of Manchester sent out a clear message that the streets belong to them, not to a yobbish minority. The 'Manchester moment' was a proud one.
"This was an overwhelming show of support for our city and its traders and I'd like to thank the hundreds of people who turned up to proclaim their love for Manchester.
"There was a real carnival atmosphere and a sea of smiling faces and 'I Love MCR' posters. This is the real image of Manchester.
"The city was buzzing today and people have definitely made the most of the free Metrolink travel and street entertainment provided through the Platform 4 event to show that Manchester is quickly getting back to business as usual."
A programme of family events was staged throughout the day in the city centre and Castlefield Arena, featuring dance, circus and street theatre.
A council spokesman said: "The 'I Love MCR' brand has become a symbol of the city's resilience since last week's disturbances."