Prizes in aid of girl's US operation stolen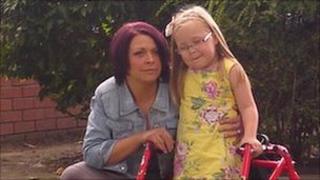 Thieves have stolen raffle prizes which were donated to help raise money for a girl with cerebral palsy to have life-changing surgery in the US.
Canterbury Road Day Nursery in Davyhulme, Greater Manchester, was broken into between 18:00 BST on 9 August and 06:30 BST the following day.
They were due to be used in a raffle to help Ria Stonehouse, five, have surgery which would help her walk unaided.
Ria's mother Michelle described the theft as "sickening".
"We were really upset as a family that someone could do this to a little girl that we're trying to help," she said.
Family and friends have set up a project called Ria's Rainbow to raise £50,000 to send her to the US for an operation.
Mrs Stonehouse said the thieves who broke into the nursery even took "bars of chocolate with Ria's Rainbow on".
Ria was born 13 weeks prematurely with diplegia cerebral palsy, which means her legs do not work properly.
"We have to live with that every day battling to help her get through different things that she can't manage so it just really devastated us," she added.
'Cynical opportunism'
Police said the prizes were worth more than £1,000 and the cost of damage to the ground-floor nursery was estimated at £500.
Among the items were signed Manchester United and Manchester City shirts.
Other prizes included a tour of Manchester United's Old Trafford stadium and a picture donated by the club, two chess sets and various smaller prizes.
The thieves also ransacked an office before stealing the prizes.
One of the burglars also tried to start a fire with some cardboard but it did not ignite.
One of the men was described as mixed race, in his late 20s or early 30s, and with dark stubble.
He was wearing a light-coloured hooded jacket with reflective strips on the arms and body and dark toggles on the hood.
The other wore a hooded jacket with a large reflective Armani logo on the back.
Det Con Ian Prescott, of Greater Manchester Police, said: "This is a particularly cynical bit of opportunism by these burglars because this was the night of violence and disorder in Manchester and Salford and they would have known this.
"We are absolutely determined to catch these men and we want the public to help - I am sure the community will be as shocked as we have been by the fact that such a worthwhile cause has been deprived of its contributions.
"The burglar we can see on camera is wearing a particularly distinctive Armani hooded top with an emblem on the back and we think someone will recognise it.
"We would also ask anyone to have a think about where the raffle prizes might be."
He urged anyone with information to contact police.