Manchester woman Karen Greaves attacked by pet-killer dog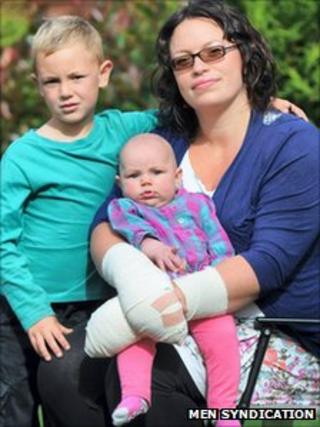 A woman suffered serious hand injuries as she tried to stop a dog that had killed her puppy from attacking her children, in a Manchester park.
Karen Greaves, 31, was in Platt Fields Park in Fallowfield with four-month-old Amelia and Dylan, five, when they were attacked by a Bull Mastiff.
The dog killed their 10-month-old Cavalier King Charles Spaniel, Molly, before lunging at baby Amelia.
Mrs Greaves put her hands in its mouth in an attempt to stop it, on 5 August.
The mother, from Withington, Manchester, was taken to Manchester Royal Infirmary and had to be transferred to Wythenshawe Hospital for surgery.
Speaking about the attack, she said it came at end of a picnic the family had enjoyed.
"Out of nowhere, with no warning, appeared this huge dog and attacked Molly pretty much straight away," she explained.
"A fight ensued and it had killed [Molly], in front of my little boy.
"I did everything to stop it but it wouldn't let go."
'Ferocious' attack
At this point, the owner of the dog reached the scene and tried to get her dog to stop.
"[She] was booting it, kicking it in the face and punching it and it was gone," said Mrs Greaves.
"There were several people watching this and nobody delved in because it was just that ferocious."
Mrs Greaves said a group of teenage girls took her children to a locked community vegetable garden in the park to keep them safe until police arrived.
She said: "It did let go and somebody carried Molly off. I shouted, 'take my children away', and then it knocked the buggy over, with my baby inside it.
"I remember it bit me a couple of times. I think it was just too hyper. It was horrific.
"Eventually, between me and the owner we managed to get it under control."
Police were called and the Bull Mastiff was seized by officers, and the force has confirmed it is now going to be destroyed.
Mrs Greaves is now calling for American-style dog-only zones to be introduced in parks.
"I think something needs to be done, I think leash laws for certain weights and certain breeds [are a good idea]," she said.
"I think there should be designated areas where these dogs can run loose, because I know that I wouldn't have let Molly off the lead with big dogs running around like that."