Christie 'breakthrough' skin cancer drug licensed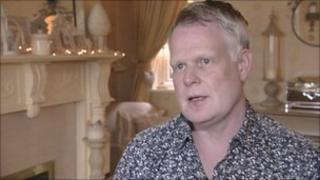 A skin cancer drug, which has been proven to prolong patients' lives, has been licensed after trials at The Christie hospital in Manchester.
Ipilimumab, which stimulates the body's immune system was tested on 50 patients.
Malignant melanoma patients have until now had an average life expectancy of less than a year after diagnosis.
The National Institute for Clinical Excellence (NICE) is due to issue draft guidance on the drug in the Autumn.
It costs £18,000 for a course of treatment.
A NICE spokesperson said draft guidance would be issued after its first appraisal meeting in the Autumn.
She added that the final guidance would be issued next February after a consultation process.
If NICE backs the drug, the NHS is legally bound to fund it. Currently this funding is discretionary.
'Back to normal'
Richard Jackson, 43, from Ellesmere Port, who took part in the trial said: "I had the last treatment a couple of days after my 40th birthday and that was over three years ago now.
"I've gone back to work full-time as deputy head of a primary school. I play sport. I play tennis a couple of times a week and I swim a couple of times a week.
"I've got two kids who I take an active part in bringing up and my life's gone pretty much back to normal.
"It's a miracle really because to be fair you go from not expecting to be around for much longer to going back to the way your life was before you were diagnosed."
'Sun exposure'
Dr Paul Lorigan, an oncologist at The Christie said: "Malignant melanoma is a very aggressive form of cancer with an average life expectancy of less than a year and to date we didn't have any treatment that significantly improved on that, but that's now changed.
"This drug, Ipilimumab, benefits many people and makes them live longer.
"We've got a number of patients here in the The Christie who are alive now, who we would have expected not to be.
"It is associated with sun exposure unfortunately, and I think what we're seeing now is the impact of people's sun exposure 10 or 15 years ago."
More than 2,000 people die each year from this form of skin cancer and it is the second most common type of cancer in 16 to 35-year-olds.