Birds of prey stolen from sanctuary in Worsley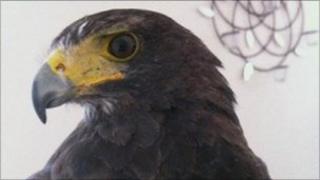 Three birds of prey, including an owl, were stolen from a bird sanctuary in Greater Manchester.
Thieves smashed the locks of the aviary at Wild Wings Birds of Prey Centre in Worsley some time between 17:00 BST on Sunday and 14:30 BST on Monday.
They took an African tawny eagle, a Harris hawk and a snowy owl, owner Ian Middleton said.
The owl and eagle were left in a box outside a derelict pub in Mosley Common.
Mr Middleton said the sanctuary received an anonymous phone call on Monday night and collected them shortly afterwards.
However, Hope the nine-year-old Harris hawk, is still missing.
'Could die'
Mr Middleton, who has about 65 birds at the sanctuary, said he rescued her about two years ago.
"We have spent a lot of time on her," he said. "She had frostbite in one of her wings.
"Whoever has got her won't have a clue. She could die if we don't get her back.
"I'm just hoping whoever has her will give her up."
He said Hope was a large brown bird with grey around the face, with yellow legs and a yellow beak.
She has a red and blue ring and cannot fly well, Mr Middleton said.
Greater Manchester Police confirmed officers were investigating and urged anyone with information to contact the force.