University of Salford gets go-ahead for £38m arts centre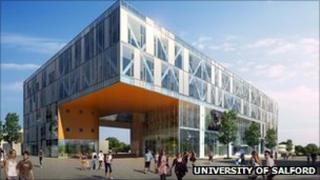 The University of Salford has been granted planning permission to build a £38m arts centre.
The building on University Road will house performance and exhibition spaces, which will host events for both the public and students.
Vice-chancellor Martin Hall said it was part of a "strong commitment to the regeneration of Central Salford".
The centre will be next to the Chapman Building, the university's existing art facility, which is being refurbished.
The facility will be used by the students of the schools of Media, Music & Performance and Art & Design, who will also be housed in the university's new facilities at MediaCityUK.
Work on the proposed arts centre is due to begin in the autumn and should be completed by summer 2014.
Professor Hall said it would be "an important cultural centre for the people of Salford and will provide our students with a space to allow them to fully develop their skills".