Third stolen bird returned to Worsley sanctuary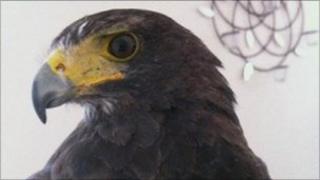 A third bird of prey which was stolen from a bird sanctuary in Salford has been returned.
An African tawny eagle, a snowy owl and a Harris hawk were taken from Wild Wings Birds of Prey Centre in Worsley sometime on Sunday night or Monday.
The owl and eagle were returned on Sunday night when an anonymous caller contacted the sanctuary, to say they had been left in Mosley Common.
A second call was received on Tuesday and the hawk was later recovered.
Sanctuary owner Ian Middleton said the birds were taken sometime between 17:00 BST on Sunday and 14:30 on Monday.
He said he received a tip-off on Monday night that two of them had been left in a box outside a derelict pub.
Mr Middleton said he received another anonymous call on Tuesday night and the Harris hawk - called Hope - was collected soon afterwards from a lay-by in Mort Lane, also in Mosley Common.
He said they were all recovering well at the 65-bird sanctuary but looked slightly ruffled, as if they had been "man handled".
"We have got all three back now so we're just working on getting them right now," he said.
Greater Manchester Police has urged anyone with information to contact the force.