Wind delays 'I Love MCR' banner on CIS Tower in Manchester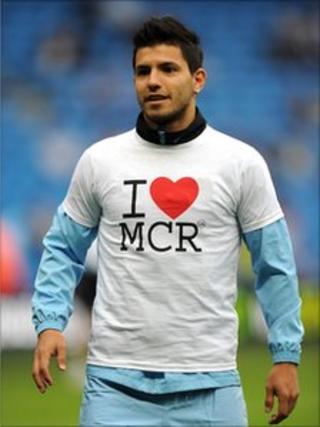 Strong winds have delayed the unveiling of a giant "I Love MCR" banner on a skyscraper in Manchester city centre.
The poster was expected to cover the top 15 floors of the 400ft (122m) CIS building, the Co-operative's head office on Thursday afternoon.
An "I Love MCR" campaign was set up by Manchester City Council in the wake of the riots in the city centre and Salford on 9 August.
Officials said the banner will be unfurled as soon as conditions improve.
Billboards have been put up across the city and many businesses have displayed the "I Love MCR" logo in their windows.
People also gathered in Market Street on Sunday, holding up posters, taking part in a "Manchester moment". T-shirts have also been printed and badges made.
Celebrities have also shown their support for the campaign, including Coronation Street stars and Manchester United and Manchester City players.
Peter Marks, chief executive of the Co-operative group, said: "We are extremely proud of our Manchester roots and the role we play in the commercial life of this great city.
"We have been here for almost 150 years and we intend to be here for the next 150.
"We were all shocked to see the disgraceful scenes of rioting and violence but the way everyone has rallied behind the I love MCR campaign is testimony to the real spirit of Manchester.
"We wanted everyone to know that we are backing the campaign and what better way to do it than erecting a poster that everyone can see for miles around."
Sir Richard Leese, leader of Manchester City Council, added: "The I Love MCR campaign makes us all feel rightly proud of our city and its people and shows the world what real Mancunians look like.
"The city has embraced it with enthusiasm and there is no better way of demonstrating that spirit than getting out and enjoying everything the city centre has to offer - whether it's shopping, culture or nightlife.
"Manchester won't take this lying down and won't let the actions of a small minority of yobs cast a lasting shadow over our fantastic city."