'Wiganese' translated into English for mobile app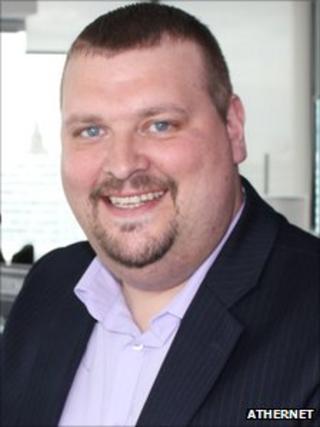 Anyone who has visited the ten boroughs of Greater Manchester will know that they contain many accents and dialects.
Some are easy to understand, while others, like the rich Lancastrian burr of Wigan made famous by the likes of George Formby, Roy Kinnear and Stuart Maconie, can be more difficult.
However, that particular problem has been solved by a mobile phone app called iWiganese, inspired by the communication problems a Manchester company had when they took on a Wiganer.
When Martin Bradley joined IT company Athernet Web Solutions, he brought with him his way of speaking, known colloquially as 'Wiganese'.
He says that he had trouble being understood as soon as he started his new role.
"On my first day there, I stood up and declared 'ah reet, lads, art suppin' 'bout?'
"No-one knew what I was talking about - I was just asking them if they wanted a drink."
Thankfully for Mr Bradley, one of the company's other employees was from Horwich, "halfway between Bolton and Wigan, so he could understand some of the dialect I was saying and started to translate".
He does admit his accent and dialect can be difficult to understand.
"In Wiganese, for example, we replace certain words. The word middle, we wouldn't say that - we'd change double D for double G, so we'd say 'miggle'."
'No-one talks proper'
The enjoyment that his colleagues had working out translations for his phrases led to the app, which is voiced in 'Wiganese' by Mr Bradley and in English by company director Ajay Kapadia.
Mr Kapadia, who admits that there were initial communication problems with Mr Bradley, says he "had to have a script [as] it's really hard to follow what he's saying".
Mr Bradley says he took the misunderstandings and blank looks in good humour, even joking that "no-one talks proper like what I do".
He says he has no idea why 'Wiganese' is so different to the dialects in the rest of Greater Manchester, but he is happy that the free app, which has been downloaded 1,500 times in two weeks, is spreading it to the wider world.
"Nobody really knows where it comes from.
"It's either that we speak lazy or that it's come from some other country and people have come over and brought their accents with them.
"Wiganese is a dying language.
"If you think I'm broad, you want to hear my dad; no-one can understand him.
"From my father speaking as he does, to me speaking as I do, to the way my children speak, it's getting less and less of a Northern accent.
"So it's nice to bring some of it back and re-establish the dialect."