Manchester student Mohammed Saeed fights in Libya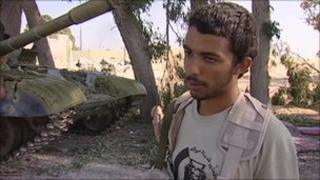 A Manchester student who travelled to Libya to fight alongside rebels has said he will return home next week to complete his college education.
Libyan-born Mohammed Saeed, 18, said he travels to the country every summer and had fought alongside rebels in the uprising against Colonel Gaddafi.
Mr Saeed said: "It's been as dangerous as it can get, I've seen death maybe a million times up to now."
He said he will return to Manchester in time to start college next week.
The 18-year-old told BBC Radio 4: "I'm going to go back, finish off college - I've got college in five days, maybe less - get my education, get my degree, then come back to Libya."
Mr Saeed, who was armed with an AK-47, added: "I've hated war, I've hated it so much.
"Now I'm here to the sounds of guns, but it's what Gaddafi's made us do - pick up the guns and fight."
He said that he and other rebels had come under fire from rockets and guns, and that he had "almost lost a finger".
"Hopefully, maybe in five years from now, the country will be built and back to normal," he added.