Mancunians support city on We Love MCR Day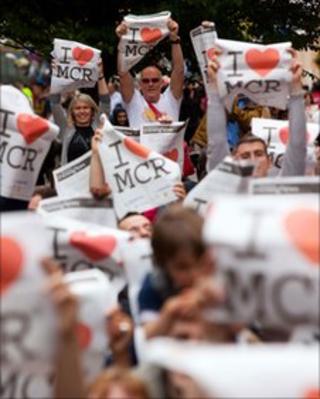 Hundreds of Mancunians are expected to gather in the city centre later to celebrate We Love MCR Day.
The "I Love MCR" campaign was set up by Manchester City Council in the wake of the riots in the city centre and Salford on 9 August.
It is hoped a poster showing the campaign's logo will be unveiled on the 400ft (122m) CIS building, after it was too windy to be unfurled on Thursday.
A party is also being held in Exchange Square from 16:00 BST.
There will be speeches from several special guests in support of the campaign and free cakes and tea provided by local businesses.
'Amazing things'
Those unable to attend are being asked to show their support online, by tweeting #ILoveMCR at 17:30 BST.
Support for the campaign has grown since it was launched last week.
It has been backed by celebrities including Coronation Street stars and Manchester United and Manchester City players, including Sergio Aguero and Mario Ballotelli.
Billboards have been put up across the city and many businesses have displayed the "I Love MCR" logo in their windows.
People also gathered in Market Street on Sunday, holding up posters, taking part in a "Manchester moment".
T-shirts have been printed and badges made, with proceeds to be split between local charities Forever Manchester and Reclaim.
Nick Massey from Forever Manchester said: "We must remember it was a small minority of people who got involved in the looting of the city centre.
"We want to make sure it is the local people who are doing amazing things to improve where we live, to give people positive things to do, that are the ones that are recognised and supported moving forward."
Sir Richard Leese, leader of Manchester City Council, has said the campaign has helped people living in the city feel proud of it once again.
"Manchester won't take this lying down and won't let the actions of a small minority of yobs cast a lasting shadow over our fantastic city," he said.