Manchester riots: Council offers money to riot-hit shops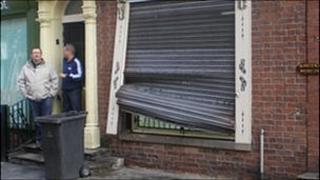 Businesses affected by the riots in Manchester are being offered financial support from the city's council.
Manchester City Council has written to small and medium-sized businesses affected by the disturbances, offering an array of measures aimed at helping them return to normal.
The support includes grants, loans and temporary reductions in business rates.
Councillor Jeff Smith said the measures were "a helping hand to affected businesses".
The support has been offered to enterprises with fewer than 250 employees worldwide and an annual turnover of less than £33.5m which were affected by the riots in the city centre on Tuesday 9 August.
It is intended to be used to help with the cost of repairs and non-recoverable insurance excesses and has been offered both those businesses directly affected and those which have suffered a loss of trade in the aftermath of the disturbances.
The grants are limited to a £2,500 maximum, while short-term loans are also available.
'Really welcome'
Mr Smith, who is the Executive Member for Finance and Human Resources for Manchester City Council, said Manchester was "a city which always takes a pragmatic approach to encouraging business and job creation and we always try to do what we can to support their needs".
"This is more important than ever in the wake of the riots, which had an impact on many city centre businesses.
"As well as highlighting the range of support available, the council are also taking our own steps to give a helping hand to affected businesses."
Lucy Thorniley, who said her Northern Quarter shop, Northern Flower, has seen less trade since the riots, said the measures were "really welcome".
"There are a lot of businesses like mine who weren't affected directly on the night but suffered from a loss of trade in the days following," she said.
Businesses have until 16:00 BST on Friday 30 September to apply for help.