Salford's MediaCityUK hosts BBC Children's Playtime event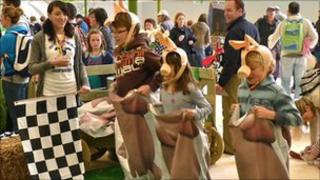 A BBC Children's event featuring Shaun the Sheep is under way in Salford.
Playtime on the Piazza is being held to celebrate the BBC department's new home in Salford's MediaCityUK.
Mr Tumble and Postman Pat appeared on Saturday, and Shaun the Sheep is due to appear on Sunday and Monday as part of a farmyard-themed Championsheeps event.
Organisers SGA Productions say it is a chance for "families to get together and get out of the house".
Described by SGA as "a school sports day with a difference", Shaun the Sheep's Championsheeps is the collaboration between the events company and the character's creator, Nick Park.
Mr Park said the "Championsheeps" came about because he wanted to "raise the baa".
The event features fun games such as Cabbage Keepy-Uppy, Naughty Pigs Sack Race and Flock and Roll.
It is the second time the event has been held, as it ran last year at Cornwall's Eden Project where 9,000 people attended.
Championsheeps runs on Sunday 28 and Monday 29 August and is free to join in.
All the events will take place in MediaCityUK's piazza in front of BBC Children's new home, Bridge House.