Working Class Movement library's funding challenge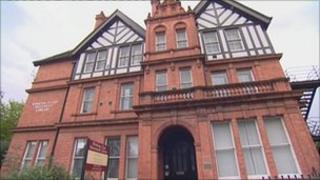 A Salford museum which charts the history of workers' struggles has said it needs to raise £80,000 a year to stay open after it had its funding cut.
The Working Class Movement Library had its grant reduced by Salford Council, which needs to save £42m this year.
Its collection of books was begun by enthusiasts Eddie and Ruth Frow in their Trafford home in the 1950s.
Salford Council offered Jubilee House in the 1980s to store the collection and create the library.
'Aspirations and struggles'
Library treasurer Dennis McGinn said visitor numbers had increased every year, but the library may now have to close unless extra funds can be raised.
He said: "A lot of the struggles for things like the right to vote and a better working life emanate from the Manchester area.
"This collection that fills 42 rooms reflects the aspirations and struggles of working people to get a more fair society.
"The history of ordinary working-class people, who by their labours made the country what it is, should be retained."