Murder victim Sabina Akhtar inquest to reopen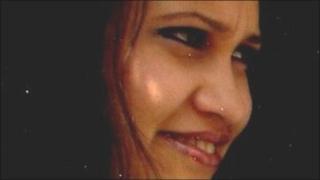 A coroner is reopening an inquest into the death of a woman murdered by her violent husband who had breached orders to stay away from her.
Sabina Akhtar, 26, was murdered by her husband Malik Mannan in 2008 at their home in Manchester.
The move follows a legal challenge by her family who allege "stupidity, lack of organisation and inertia" on the part of Greater Manchester Police.
Manchester coroner Nigel Meadows cited Human Rights law for his decision.
'Human rights breach'
Mannan, 36, was jailed for life in March 2009 for stabbing Sabina Akhtar, 26, to death at their home in the Longsight area of Manchester.
Mr Meadows quoted "an arguable breach" of Article 2 of the European Convention on Human Rights, which relates to the right to life, for the unusual step of reopening the inquest.
Matthew Gold, the Akhtar family's solicitor, said: "For the first time there will be a full investigation into the circumstances which led up to her death including the role of Greater Manchester Police (GMP) and the Crown Prosecution Service into what additional steps should have taken to protect Sabina from her dangerous husband."
Ms Akhtar had contacted police two months before her death and alleged Mannan had assaulted her and made threats to kill.
Mannan was arrested, questioned and then released on police bail.
'Not pursue'
He was re-arrested four days before murdering Ms Akhtar for breaching his bail conditions but was released without charge and continued harassing her.
The CPS apologised to Ms Akhtar's family before Mannan was sentenced, saying it had been "wrong" not to charge him earlier.
The Independent Police Complaints Commission said that in light of this apology, it would not pursue an investigation into GMP's handling of the matter.
The inquest into Sabina Akhtar's death is likely to be heard in February unless either the CPS or the police seek judicial review of its reopening.