Inquiry into death of man run over by Manchester tram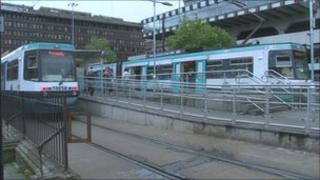 The death of a pedestrian who was run over by a tram in central Manchester is being investigated by the Rail Accident Investigation Branch (RAIB).
The man died after he was struck by a tram in Piccadilly Gardens at about 00:15 BST on 5 June.
The RAIB said the man ran into the path of the tram. He appeared to stop before reaching the track but fell directly in front of the vehicle.
He was rescued from under the tram and given emergency treatment but he died.
The RAIB said its investigation would try to understand the "mechanism by which the injuries were caused to the pedestrian and the role played by the under-run protector".
The under-run protector is designed to prevent pedestrians from being crushed under the wheels of a tram, it said.