Rebecca Leighton: Police chief defends Stepping Hill inquiry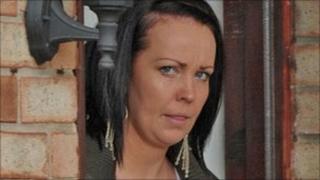 Detectives working on the Stepping Hill hospital saline deaths case have been defended by their chief constable after charges against a nurse were dropped.
Rebecca Leighton, 27, was held in custody for six weeks charged with counts of criminal damage with intent to endanger life and theft.
Her solicitor said she had been treated as a scapegoat and may sue the police.
Greater Manchester Police Chief Constable Peter Fahy said the case was "incredibly complex".
The force still investigating the unexplained deaths of seven patients at the hospital.
"Unexplained" low blood sugar levels were discovered in some patients amid fears saline solution had been contaminated with insulin.
'No point'
Mr Fahy said: "We've got a hospital here where 4,000 people work and just in the area we're looking at we think there's more than 700 people involved.
"Things we normally use like CCTV don't have any impact in this case, the forensics are very difficult because lots of people have access to the area and even to some of the materials, so that is the complexity.
"There's no point in doing witness appeals because we know we've already got 700 people involved and the other fact is that when you're building a case, you not only have a to build a case against someone, you also have to eliminate everyone else."
Speaking following Ms Leighton's release from Styal Prison on Friday, her solicitor Carl Richmond said that she was considering suing the force for wrongful arrest.
During a bail application in August it emerged the evidence at that stage against Ms Leighton amounted to her fingerprint being on a saline bag which was damaged by a needle.
Her thumb print was also discovered on the bottom of a bottle of antibiotic fluid which contained insulin.
But a judge at Manchester Crown Court was told that "many people" had access to both the bag and the fluid, and Ms Leighton, from Heaviley, Stockport, would have a reason to touch them in her role as acting sister.