Stockport Council plans to shed another 160 jobs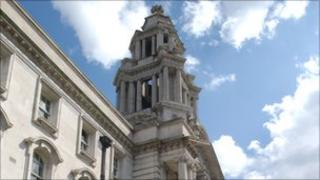 Stockport Council is planning to cut a further 160 jobs in order to find an additional £13.5m in savings.
The authority announced in January that it would need to cut jobs, eventually achieving a figure of 311.
However, the council has now announced it needs to find further savings, 6% of its total spending for the next financial year.
Member for finance Sue Derbyshire said the council, which is in no overall control, had been forced to "dig deep".
Stockport Council said 50 of the posts were already vacant and that volunteers would be sought for redundancy and early retirement for the remaining positions.
A spokesman for the authority said the 311 jobs were lost by the start of the 2011/12 financial year and the additional 160 will have to go by the start of 2012/13.
Councillor Derbyshire said: "As we have done previously, we will do everything we possibly can to minimise the effects of the budget reductions on the people of Stockport and the council's workforce.
"The country's economic situation requires us to dig deep, think creatively and identify new ways of delivering essential services at a lower cost base."
'Rough time'
Mark Rayner, of Unison's Stockport branch, said the union would fight any compulsory redundancies.
"Local government workers have had a fairly rough time for quite a number of years and they have actually contributed to the coffers of the council," he said.
"For the past two years, there has been a pay freeze, a 0% increase in any salaries for staff.
"Those staff have actually contributed to the council coffers to try to ensure... the front line services are protected.
"A lot of local authority staff - cooks, cleaners and our people who look after the elderly - do a lot of work way above what they are actually paid for. Sometimes there is a lack of understanding about these jobs.
"A lot of these jobs are very vital front line services."
He added: "It is a very very sad situation we are having to deal with in local government. We are being devastated."
Stockport Council is asking residents, businesses, employees and trade unions to give their views on ways the council could save money.
Ms Derbyshire said it was "committed to redesigning services so that the savings have as little impact as possible on front line service to people in Stockport".
The proposed cuts are due to be discussed at Stockport Council's executive later.
A three-month consultation period will then get under way with various events, meetings and questionnaires.