9/11 wreckage shown at Imperial War Museum North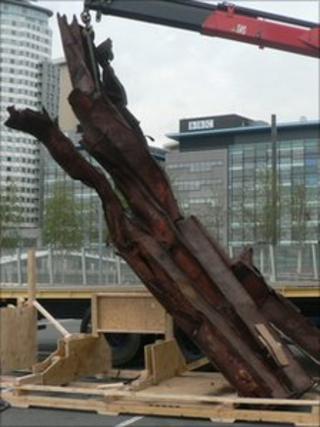 A metal shard and a union jack salvaged from the wreckage of the 9/11 terror attacks are to go on display in Greater Manchester.
Imperial War Museum (IWM) North is displaying both items to mark the 10th anniversary of the terror attacks.
The one-tonne twisted piece of metal and the union jack will be shown at the Trafford museum from Saturday.
Sixty-seven Britons were among almost 3,000 people who were killed in the 9/11 attacks.
The flag was presented to Great Britain by the United States in 2002 on the first anniversary of the attacks.
It was laid on the altar of St Paul's Cathedral in a memorial service for victims of the disaster.
Modern conflict
For the 10-year anniversary of 9/11, the museum is linking up with the United States for a live Transatlantic Memorial Event.
Two specially-composed 12-minute orchestral pieces incorporating voice recordings of witnesses to the 9/11 attacks will be performed - one at the museum, the other in America.
The compositions - which focus on the United Airlines Flight 93 crash in Pennsylvania - will be streamed live to the other venue.
Jim Forrester, director of IWM North, said the aim was to encourage visitors to think about the wider impact of modern conflict on people's lives.
"The decade has given us time to reflect at length on the motivation and background to the attacks and yet, even with the benefit of more hindsight, it remains the most bewildering of events.
"How did the world come to that point and has it improved since?
"As we create a live link across the Atlantic at 4pm on 11 September, we aim to encourage our visitors to reflect on this and to think about the lives lost on that awful day 10 years ago."
The museum, which sits on the banks of the Manchester Ship Canal, was designed by architect Daniel Libeskind, whose plan was chosen for the rebuilding of Ground Zero.