Bolton flu patient calls for others to have jab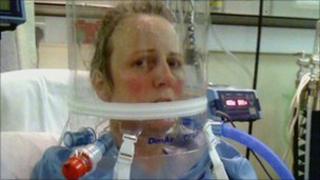 A woman from Bolton who refused a flu jab and then became critically ill has urged others to have the vaccination.
Carol Williams, 43, said she thought she would not need the jab as she only had mild asthma and felt fit and well.
But she was one of more than 1,200 people admitted to hospitals the North West with a primary diagnosis of flu from November to February last winter.
Three hundred and thirty one people were admitted to critical care over a four week period, NHS North West said.
Ms Williams, a mother-of-four, started to feel ill in the run up to last Christmas and had to go to Accident and Emergency on Boxing Day.
She was admitted immediately. "They told me they thought I had swine flu," she said.
"I ended up on a machine that forced oxygen into my lungs. I was bent over like an old man, gasping for breath. It was so difficult breathing.
"I was put on a ventilator and at one point was told that I might not survive the night."
She said that since then "every day has been a fight".
"I'm still not the person I used to be and sometimes I break down crying, because I know it's going to be some time before I get back to that person."
She said she had thought the flu vaccine was for the elderly or people who were already unwell.
"I want to make sure that others don't make the same mistake as me and encourage anyone who needs it, to make sure they get the flu jab this winter."
Jane Cummings, chief nurse for the North West, said: "People in the North West were hit particularly hard by flu last year.
"In the NHS we experienced high demand for intensive care beds before anywhere else in the country.
"We have some of the highest numbers of people who fall into the at risk groups in our communities."
"The best step anyone who has an underlying health condition can take, to protect themselves from becoming seriously ill, is to get vaccinated as soon as possible."