Rally held over Marple supermarket plans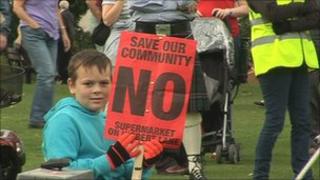 Campaigners against a supermarket being built on the site of a sixth form college in Stockport have staged a rally in the town.
Cheadle and Marple Sixth Form College is considering selling its Hibbert Lane campus in order to raise money to fund the re-development of another site.
Marple in Action said it had been told by the college that it plans to sell the site to a supermarket chain.
The college said it had to fund a £14m redevelopment of its Buxton Lane site.
It added that plans had not been finalised and were subject to approval by the governing body and Stockport Council's planning department.
'Wider impact'
David Hoyle, chair of Marple in Action, said it was opposed to the proposals for a supermarket because it would affect many small businesses, which he said were the "bedrock of Marple society".
He said it would also have a wider impact on the Marple community, as it would lead to an increase in traffic.
Mr Hoyle said the group had canvassed the opinions of the community through surveys and found 80% supported the campaign.
They have also gathered almost 6,000 signatures on two petitions, he said.
However, he said the group was not opposed to a new supermarket in the town, providing it was in the right location.
The campaign has been backed by local Liberal Democrat MP Andrew Stunnell.
'Highest quality education'
In a statement, the college said "providing facilities that are fit for purpose" was an "important priority".
It said it, as with other sixth form colleges, no longer benefited from funding from the government for cash to spend on buildings so it has to raise funds for building projects itself.
It has also had to reduce its expenditure by £1.2m "simply to stand still", it said.
"The college is seriously committed to remaining in Marple, wishing to continue to provide high quality education, services to its community, employment and to have a positive impact on the local economy.
"In order to achieve this, it is essential that the estate is upgraded to the standard that our students, our community and our staff deserve."