Stepping Hill: Police investigate contaminated milk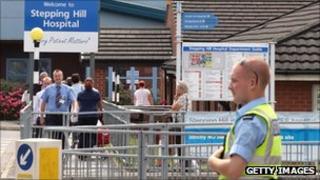 Police are probing a second suspected contamination incident at Stockport's Stepping Hill Hospital after milk was found "spiked with bleach" on a ward.
However detectives said there was no evidence of a link to the sabotage of saline drips earlier this year.
The investigation into contaminated saline has been narrowed to focus on three deaths, police revealed earlier.
They believe insulin was administered unlawfully to patients Alfred Weaver, Arnold Lancaster and Tracey Arden.
A further four deaths have now been ruled out of the investigation, while two others had previously been dropped from the inquiry.
Detectives are investigating 30 cases of saline contamination.
In the latest incident, officers were called to the hospital at 20:30 BST on Saturday after staff found that a bottle of milk had been contaminated.
No patients or staff members were harmed by consuming the milk, a Greater Manchester Police spokesman said.
He added: "Stepping Hill is made up of a large community of people and it is unlikely that every incident reported is connected to the concerted and deliberate criminality already being investigated."
Toxicology tests
Nurse Rebecca Leighton spent six weeks in prison charged with contaminating saline but was released on 2 September when the Crown Prosecution Service dropped the case due to lack of evidence.
The Nursing and Midwifery Council is due to meet on Wednesday to discuss the 18-month suspension it imposed on Ms Leighton in August.
Police are working closely with medical experts to scrutinise post-mortem examination results, medical histories and any medicines or drugs individuals may have received while at Stepping Hill.
The force said it was still trying to establish whether the illegal insulin dose was "a significant contributing factor" in the three deaths.
A police statement said a number of toxicology and other tests to try to establish causes of death were continuing and could take weeks to complete.
Mr Weaver, from Stockport, died on 21 July after suffering a hypoglycaemic episode on 11 July - a day after he was admitted from a care home with breathing problems.
Ms Arden, of Heaviley, who had multiple sclerosis, died on 7 July, and retired photographer Mr Lancaster, of Romiley, died on 11 July.
Assistant Chief Constable Terry Sweeney said: "I know relatives of the confirmed victims affected and the public in general will be anxious and want answers and we are working as quickly as we can without jeopardising the quality or integrity of the investigation."
Police have interviewed more than 300 out of the 700 staff, patients and visitors they intend to speak to.