Man hit by bus chasing thief in Manchester dies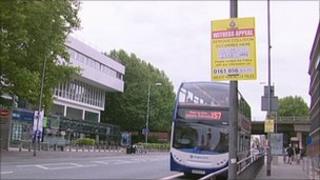 A man who was hit by a bus while he was thought to be chasing after a thief in central Manchester has died.
David Schofield, 21, from Hyde, suffered serious head injuries when he was struck by the bus in Oxford Road, at about 23:30 BST on Saturday.
Police said CCTV footage appeared to show Mr Schofield pursuing a cyclist when he stepped into the road.
Two women had told the bus driver they thought Mr Schofield had been the victim of a theft, police said.
The women said Mr Schofield's mobile phone had been stolen by the cyclist.
Greater Manchester Police are appealing for the two women and any other witnesses to contact them.
They are also asking for a cyclist wearing a light-coloured hooded top and riding a BMX bike to come forward.
White Blackberry
Ch Supt Russ Jackson said: "We have a third-hand account that David was chasing a thief on a pedal cycle who stole his mobile phone - but as yet the two women who told the bus driver this have not come forward.
"It is therefore absolutely vital we speak to these women so please if you are reading or hearing this, we need to hear from you.
"You are not in any trouble whatsoever - we simply want to know what you saw and help us understand what happened, so we can at least give David's family the answers they deserve.
"We also want to hear from anyone who witnessed the collision, or saw a pedal cyclist being pursued by someone, to call us.
"We do know that David had a phone, we believe a white Blackberry, and this has not yet been recovered."