Family tribute to man hit by bus while chasing thief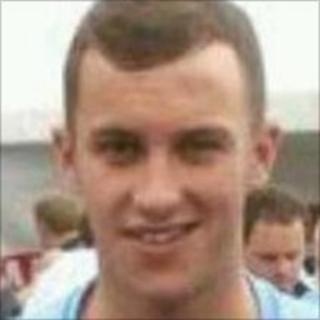 The family of a man who was killed when he was struck by a bus as he chased a thief have paid tribute to a son who "was committed to everything he did".
David Mark Schofield, 21, died on Sunday after being hit by the double decker in Oxford Road, Manchester on Saturday night.
Mr Schofield, of Hyde, was a keen footballer who dreamed of being a teacher, his family said.
A man, 19, has been arrested on suspicion of theft and bailed.
A devoted Manchester City fan, Mr Schofield "loved nothing more than being a true Blue," his family said.
"He packed so much into his short life - travelling all over Europe with friends and his football team, Stalybridge Celtic Academy.
"He lived life to the full and was the heart and soul of any party. He never took anything for granted and was committed to everything he did.
"From a young age David made his mark, winning England's under nines' chess championship in Liverpool."
They added: "He will be missed deeply by all family and his large network of close friends.
"We are heartbroken and miss you. We just want you back."
Mr Schofield, who was due to start his second year on a sport science course at Liverpool John Moores University, had been out for a drink with friends before the tragedy.
He was struck by the city-bound bus as he chased after a cyclist who had stolen his mobile phone moments before.
Greater Manchester Police has appealed for witnesses to the incident and to anyone who saw a BMX cyclist wearing a light-coloured hooded top to come forward.