Manchester asks its residents if they are feeling blue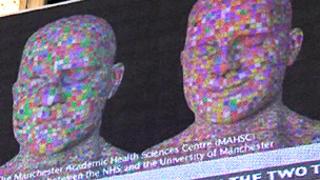 Are you feeling blue? Or a little green with envy? Or are you having a purple day?
The mood of people in Manchester has been measured by researchers in the Great Manchester Health Experiment.
Thousands of people gave an indication of their mood at two points during the day, using a colour wheel on the experiment's website.
After selecting one of 38 colours and shades at 09:00 BST, they were encouraged to do something to help their well-being - connecting with people around them, being active, taking notice of their surroundings, learning something, or giving to others - as advised by Manchester's director of public health David Regan.
A series of events was held in the city centre, including training with City and United, singing with choirs, and a giant black canvas on which people can paint, to help people do something positive.
Those taking part were then asked to return to the site at 15:00 and choose a colour.
The first results, shown as a speckled face, were unveiled on the big screen in Exchange Square at about 10:00.
'Less boffiny'
The second set - showing the difference in the face - were revealed at about 16:00.
Researchers said the initial results suggest participants were happier when they chose their second colour. This could be seen by the range of colours and the number of times certain colours appeared, they said.
The detailed breakdown will be analysed by researchers and released at a later date.
The experiment was devised by Manchester Academic Health Science Centre (MAHSC) - a partnership between the university and six Greater Manchester NHS organisations.
The centre, established in 2009, aims to bring together academic research, NHS staff and patients.
But was it all just a publicity stunt? Or was there actually a credible scientific basis to it?
The wheel was developed by University of Manchester researchers Dr Helen Carruthers and Prof Peter Whorwell.
Shade of colour
After carrying out a study with people who were anxious and depressed and a group of people who did not have any mental health issues, they established a link between colours and mood.
When asked which colour on a wheel they felt most drawn to, both sets of participants mostly chose yellow. Both sets mostly chose blue as their favourite colour.
But when asked which colour represented their mood, most people who were anxious and depressed chose grey, unlike the healthy participants who tended to pick yellow.
A separate group of healthy volunteers were asked whether they associated any of the colours on the wheel with positive or negative moods.
Dr Linda Magee, chief operating officer at MAHSC, said: "We wanted to capture people's imagination and make scientific research less 'boffiny' although there are a lot of boffins behind it."
She said while Wednesday's experiment was not a "proper controlled experiment" evaluating mental well-being, it was "based on proper scientific research, done with patient groups".
Broad themes of happiness, ranging from very happy to quite unhappy would be gathered from the research, she said.
Both the colour and its shade are relevant, she said.
"You might like a particular colour but a shade can indicate the mood.
"We hope to get some interesting information from the analysis we do on the responses we get," she added.
On one level, the centre wanted to use the experiment to encourage people to think about their mental and physical health.
In addition, researchers need more people to take part in research locally.
Patients do better in an environment where research trials are being carried out, Dr Magee says. If we do not carry out research in this country it will go elsewhere, she adds.
But most importantly, research needs to carried out with patients in the North West, in order to treat specific issues relevant to the area.
"There are huge health inequalities in the North West," Dr Magee said.
"We have on the highest rates of people dying from smoking-related conditions and heart disease.
"We need local participants to take part so we can understand our local population.
"Research isn't just about drug trials but also about understand attitudes and perceptions of healthiness."