Stepping Hill's Rebecca Leighton has nursing ban lifted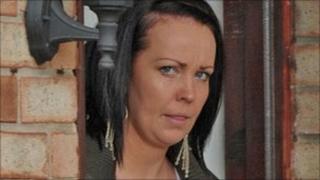 A nurse investigated over contaminated saline at Stepping Hill Hospital can return to nursing, it has been ruled.
Rebecca Leighton, 27, was accused of tampering with medical products at the hospital in Stockport in July.
A panel at the Nursing and Midwifery Council (NMC) lifted a general nursing ban earlier, subject to restrictions.
Miss Leighton remains suspended from Stepping Hill Hospital pending its own internal inquiry into allegations that she stole drugs.
The restrictions placed on her by the NMC include only working at Stepping Hill Hospital, not holding any keys to drugs cupboards, and not administering medicine except under supervision.
A hearing at the NMC heard she had admitted to police that she stole an antibiotic, ibuprofen and a prescription-only opiate-based painkiller.
NHS Stockport Trust said Miss Leighton would not return to work while they review the allegations, but she would now be on full pay.
Speaking after the hearing, Miss Leighton said: "The CPS dropped all charges against me and I hoped that the NMC would take this into account and allow me to go back to the job I love without any conditions attached.
"I now want to concentrate on building my life back up again, going back to work and clearing my name fully."
'Casting doubt'
She added: "My thoughts are still with the families who have lost loved ones and I hope they get the answers they deserve."
The nurse had been banned after she was charged with counts of criminal damage with intent to endanger life and theft after saline drips were found to be contaminated with insulin. Those charges were dropped earlier this month.
Salim Hafejee, outlining the case against Miss Leighton, told the hearing that the nurse should not be allowed to return to work despite the charges being dropped.
He told the panel it was likely Miss Leighton had used stolen pills herself, casting doubt on her professional ability.
He also compared the situation to the case of GP Harold Shipman, who was convicted in 2000 of murdering 15 patients and was found to have used stolen drugs.
He said: "One hesitates to bandy around the name of [Harold] Shipman too regularly but you will be aware of the impact of professional dependency on drugs and the perception that it creates."
'Trial by media'
Miss Leighton's lawyer Paul Rooney told the NMC it would have a "devastating" effect on her professional reputation and financial situation to suspend her from nursing on the allegation of theft.
He added: "She has had her liberty restored and she expects to be afforded the opportunity to return to the profession she loves and has worked hard to be part of."
He added that fresh interest in her case could result in "trial by media" and asked the panel to lift her ban, which saw her suspended without pay.
He also cited a letter from her GP which said she had no health problems and was fit to work.
In another letter read to the panel, a consultant who works with Miss Leighton described her as one of the "best staff nurses" he had worked with, adding that she was "hardworking", "caring" and "committed to her job".
Miss Leighton was supported at the hearing by her fiance Tim Papworth and parents David and Lynda.
The drugs were found at her home in Stockport by police. Of the 30 prescription-only tramadol pills, only 18 remained.
Greater Manchester Police is still investigating the deaths of three patients at Stepping Hill Hospital, linked to contaminated saline.
Miss Leighton was one of a number of "suspected nurses" to be investigated by detectives working on the tampering case, the panel heard. Five others have had their files reviewed by police.
Police believe insulin was administered unlawfully to patients Alfred Weaver, Arnold Lancaster and Tracey Arden.