Manchester council gets £1m to help riot-hit businesses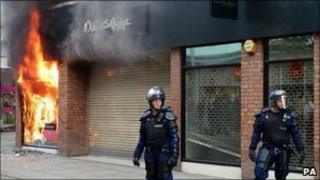 Manchester is to receive £1m in extra government funding to help the city recover from last month's riots.
A report to the city council's executive officers states that the funds will be allocated from the High Street Support Scheme.
The £20m national scheme was launched after the riots to allow councils to help affected businesses with cashflow and to contribute towards repairs.
The council has added £100,000 from its own contingency funds.
A bid will also be submitted for an additional grant from the government's £10m Recovery Fund.
The cash will go towards funding individual grants of up to £2,500 which are being offered to businesses employing fewer than 250 staff.
Almost 200 city centre businesses were damaged during the rioting and looting, which was described in the report as "some of the worst levels of criminal activity ever experienced in Manchester".
'Biggest critic'
More than 100 stores suffered criminal damage, four were subject to arson, 77 were burgled, and almost 200 people have appeared at Manchester City Magistrates' Court charged with riot-related offences.
Manchester City Council leader Sir Richard Leese said: "I'm probably one of this government's biggest critics, but in these particular circumstances the government did listen and and have responded very, very, quickly and are supporting us in supporting business and residents affected by the disturbances to get back to normal as quickly as possible."
The report, which will be discussed later, also recommends that the council pursues civil action, including the use of tenancy evictions against those convicted.
It said: "The priority will be those arrested with a history of crime or anti-social behaviour affecting their neighbours, neighbourhoods and local communities.
"In all cases, we will consider the consequence of any action we take on children in the family and the likely consequences in terms of future demand on the council and other agencies."