University of Salford campus plan goes before council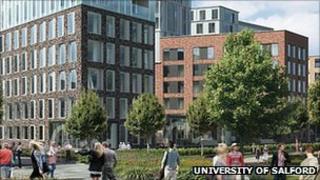 A crucial part of the University of Salford's plan to become a campus-based institution will be decided upon by the city council later.
The plan for a student village at Peel Park forms a major part of the establishment's £75m Campus Plan modernisation initiative.
The university hope the 2,000-bedroom development will improve student life outside of teaching time.
In August, the university was given permission to build a £38m arts centre.
The university has set out its vision for the Peel Park site in their Campus Plan initiative, a 20-year plan to "revive and regenerate" the campus and "create an environment that can be shared by the people of Salford and the university".
In the planning application for the village, the university said the present provision at Castle Irwell and Horlock and Constantine Court "limits continual activity within the campus after hours".
The document stated that the existing accommodation "restricts the campus community in terms of vibrancy" and that the new village would make Peel Park Campus "become much more animated, particularly during the evenings and at weekends".
The proposed village would consist of three blocks of up to 10 storeys high and, if planning permission is granted for it, the university hope to have it completed and open by the start of the 2013-14 teaching year.