University of Salford's new £30m campus plans approved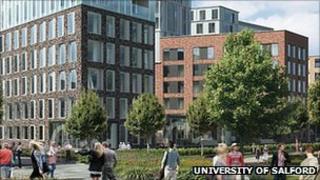 Plans for a £30m student village at the University of Salford have been approved by the city council.
The 2,000-bedroom development at Peel Park is a crucial part of the university's plan to become a campus-based institution.
Work on the three new accommodation blocks, which will be up to 10 storeys high, is due to start next year.
The university hopes to have the work completed by the start of the 2013-14 teaching year.
It believes the new accommodation will improve student life outside of teaching time.
University Vice-Chancellor, Professor Martin Hall said: "Students will have easier access to modern state-of-the-art teaching and leisure facilities which will be shared with, and benefit, the whole of the local community."