Teenage Cameroon athletes missing in Manchester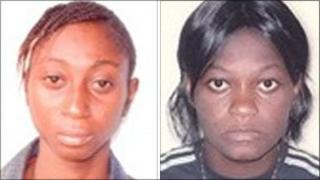 Two teenage girls who represented Cameroon at the Commonwealth Youth Games have gone missing in Manchester.
Balana Marie Michel and Foumena Marie Gaelle, 16, took part in the games that closed on the Isle of Man on Monday.
They were due to fly home to Cameroon from Manchester Airport on Wednesday, but disappeared from Terminal 3 before their flight at 06:30 BST.
Police have asked anyone with any information regarding the girls' whereabouts to contact them.
They said they believed the girls were carrying black rucksacks bearing the Cameroon flag.
Det Con Andy MacNab said: "We believe the girls walked off of their own free will, but we are extremely concerned for their welfare as they have little money and absolutely no-one to turn to in this country."