Tribute to Worsley crash death toddler Yosan Oquba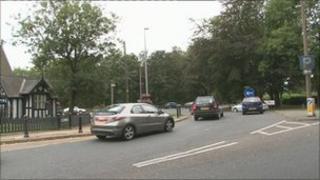 The parents of a toddler who died after the car she was travelling in crashed into a tree in Greater Manchester have paid tribute to "a beautiful child".
Yosan Oquba, who was 15 months old, was in a car with her family when it left the road in Worsley on 11 September.
She died from her injuries in hospital four days later.
Yosan's parents said: "Yosan was a beautiful and interesting child. As a family we are very close and Yosan will always be in our thoughts and prayers."
They added: "Everyone in our neighbourhood knew her and they loved having her around. She was so active and we loved her very much and we will miss her."
Yosan's family, who are originally from Eritrea in Africa, were returning home to Old Trafford after a family gathering in Leeds when the crash happened.
Police said that Yosan's mother remained in hospital, along with a five-month-old boy who was also injured in the crash.
They have asked anyone with any information to contact them.