Man charged after Bramhall intruder death burglary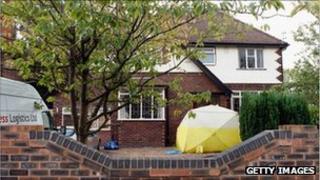 A man charged in connection with a burglary at a house in Greater Manchester where an intruder was killed has appeared in court.
Michael Thorpe, 33, of Outwood Road, Heald Green, Stockport, appeared at Stockport Magistrates' Court charged with aggravated burglary.
He is accused of entering the house of Vincent Cooke, 39, in Midland Road, Bramhall, Stockport, on Saturday night.
Raymond Jacobs, 39, died from knife wounds he suffered at the house.
Mr Thorpe was remanded into custody to appear for trial at Manchester Crown Court on 2 December.
Mr Cooke was arrested on suspicion of murder and bailed until 17 October pending further inquiries.
Detectives investigating the stabbing said they must determine whether it was "a criminal act" or "self-defence".
Mr Cooke was initially at home alone at the time of the incident, at about 19:50 BST on Saturday, but his wife Karen and their 12-year-old son returned during the incident. They escaped unharmed.