Cameroon athlete tells police she 'ran away because of failure'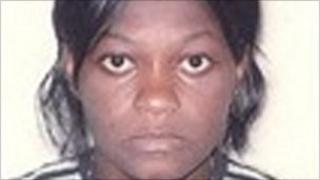 A missing Cameroon athlete who handed herself into police in Manchester told them she ran away because of her "poor performance" at an event.
Foumena Marie Gaelle, 16, went missing with a team-mate at Manchester Airport on 14 September, after the Commonwealth Youth Games on the Isle of Man.
Foumena handed herself in on Saturday, but Balana Marie Michel is missing.
She told police that their head coach had said their careers were over after their performances at the games.
Foumena failed to qualify for the 100m semi-finals from her heat, and finished eighth out of nine competitors in the long jump.
Balana, 16, went out in the first round of the 100m and 200m contests.
A police source said: "Foumena was interviewed at length and she said she had been concerned about her poor performance at the games.
"She said that her and Balana were taken to one side by the head coach and were told their careers in athletics were over.
'Not thought it through'
"She said that would have huge financial implications on them to do with their schooling and their families back home.
"The head coach was said to be very influential and very well connected in Cameroon.
"They were scared but had not thought it through properly when they decided to miss the flight."
The teenagers were due to fly home to Cameroon from Manchester Airport but disappeared from Terminal 3 shortly before their flight at 06:30 BST.
Police said they had left the airport "of their own free will" and have asked anyone with information about Balana's whereabouts to contact them.