Seven for a Secret Never to be Told premiere in Salford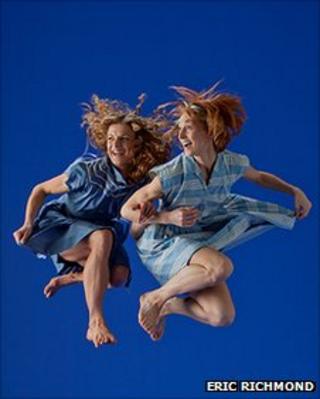 A ballet which has been a collaboration between a contemporary dance company and a child psychologist is to premiere in Salford on Wednesday.
Seven for a Secret Never to be Told will be performed at the Lowry and interprets children at play.
The title comes from the nursery rhyme about magpies and is based on Ravel's opera L'enfant et les Sortilèges.
The whole cast of dancers portrays children.
Mark Baldwin, who has choreographed the ballet for the Rambert Dance Company, said: "I wanted the dancers to be able to think like children, this idea that you're absolutely in the moment, that play is really good for the brain and the best thing that children do is imitate. The whole piece is about play and imitation.
"I've heard visual artists talk about their work and they all say that what they do when they're in the studio is play around with some ideas and that leads to some new ideas, so it seemed to me that there was a fantastic parallel between children playing, artists playing, and people inventing new things by playing.
"I wanted to take these ideas to do with children's behaviour and make something beautiful and poetic."
Children and crows
To develop this idea he enrolled the help of Nicky Clayton, professor of comparative cognition at Cambridge University.
Blackpool-born professor Clayton specialises in how children and crows think.
She said: "Mark and I have been busy observing children's behaviour, especially how they play. It's so inspiring watching the children in action.
"There's so much collective energy, the whole playground a-hum as a group of little four and five-year-olds fill the space with their vibrant energy."
She also has a personal interest in dance.
Mr Baldwin said: "The first thing she did when I met her, was to show me her collection of salsa and tango shoes, and I thought I've actually got someone who I can work with who is deeply rooted in science, and whose other big passion is dance.
"The piece relates to her ideas about the way birds behave. They play as well, they have complex social structure. They know how to cheat, lie and hide things. They've got phenomenal memories.
"We're looking at these birds with a particular kind of intelligence and I suppose that's the secret in Seven for a Secret Never to be Told, this idea that we're playing around with that there's an animal that we probably see every day which is just as intelligent as small children.
"This means I can build something beautiful and poetic out of young children's behaviour and make the most glorious dance for people to look at.
"That's the main thing for me, that we can make something for the audience for their pleasure and enjoyment, but then there's a little something to think about."
The ballet is at The Lowry until 23 September before touring the country to the end of the year.