Rochdale Council proposes £10m cut to services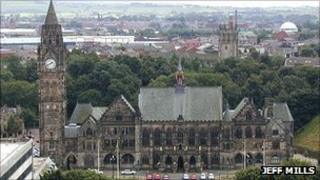 Rochdale Council has proposed a £10m cut to services as part of its bid to make a £64m saving by 2015.
The Labour-led council implemented compulsory redundancies in February and a £14m budget cut in 2010, and has said the latest cuts could mean 200 job losses.
The largest saving would be in customer services, which would see a £3.1m reduction in funding.
Unison's Helen Harrison said members were "devastated at the news".
The £10m reduction in funding, which is open to public consultation until 19 December, would come in four main areas.
Alongside the cut to customer services, the council's human resources, legal and finance departments would lose £2.9m, adult and children's care services and schools would be cut by £2.8m, and environmental management services would lose £1.1m.
'Hugely challenging'
Among the specific changes to services proposed are the closure of the Ronald Gorton Day Centre, which provides adult social care, and the Richard Street Mental Therapy and Wellbeing service, which helps those with mental health problems, and the moving of the customer service centres in Middleton, Littleborough and Heywood to local libraries.
The reorganisation of services would also see a charge introduced for the removal of bulky waste and a review of cleaning services in public buildings.
Council leader Colin Lambert said changes had to be made and that the financial situation was more difficult than ever before.
He said: "Inevitably, such a significant reduction in government funding will impact on the services we provide, however we will continue to do our best to respond to residents' top priorities.
"We're operating in a hugely challenging financial environment and have to look at new ways of working and delivering services at a lower cost.
"To make significant long-term savings, we are transforming the organisation and the way services are delivered to keep the council in a strong position to deliver quality public services at the lowest cost to the taxpayer."
Ms Harrison said that her union had been fielding phone calls from members who were "angry and upset".
"There's a lot of upset as there are a lot of front line services in danger.
"The public will definitely feel these cuts.
"There is also anger, but you have to turn your anger on the right people - Rochdale has had a disproportionate cut in funding from the government and that is where the anger must go."