Man who raped Manchester students jailed indefinitely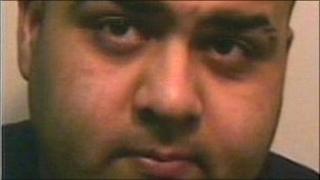 A 21-year-old man who raped two students in Manchester and threatened one of his victims with a knitting needle has been jailed indefinitely.
Asim Javed, of Wilbraham Road in Chorlton, was given an indeterminate prison sentence at Liverpool Crown Court for the public's protection.
Judge Clement Goldstone QC recommended it should be at least eight years before he is considered for parole.
Javed carried out the attacks on 13 December 2009 and 23 September 2010.
Sentencing him, Judge Goldstone said: "You didn't care about anyone apart from your own perverted ways of gratifying your sexual urges."
The judge said Javed was a "highly dangerous young man who represented a serious danger to the public".
The mother of one victim shouted from the gallery "no sentence is long enough for you".
Mr Andrew Nuttall, prosecuting, said the two attacks were on vulnerable girls trying to get home late at night.
Speaking after the sentencing, the mother of Javed's first victim, who was 18 at the time of the attack, said: "I want him just to feel even a small bit of the pain he has put my daughter through."
The court heard Javed had given his victim a lift in his car and that when she had phoned her father to tell him she was being driven home, she passed the phone to the rapist, who told the teenager's father she was "minutes away from home and safe".
Her mother said: "Then I had to phone him (the father) and say she had been raped."
Mother's warning
She said her daughter "thought she was going to die" after Javed threatened to kill her during the ordeal.
Recalling the night of the attack, she said: "There was a horrendous banging at the front door. I could hear her screaming.
"I opened the door and she was screaming and crying. Her face was bruised where he had punched her."
She said the attack had changed her daughter overnight and that she had been unable to return to college.
"She is quite aggressive and has mood swings. She is still very angry and very edgy," she said.
"I have no idea how this will affect my daughter's life [in the long term]. I just pray to God that she has the strength to move on from this."
The mother said she was speaking out to warn other young women to be on their guard. "Make sure you have enough money to get home, only trust licensed taxis and don't go out if you can't afford to get home safely."