Pupils and artists create giant puppets in Manchester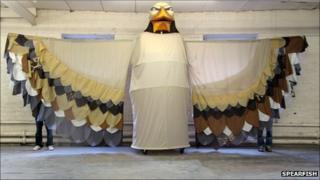 Five large puppets created by teenagers have been unveiled in Manchester.
Fifty pupils from across Greater Manchester and Lancashire worked with artists to create the representations of Spain, Italy, Germany and the Czech Republic.
The puppets, which include a skeleton and an eagle, were made for the city's Last Day of Summer Festival.
Artist Neequaye Dreph said there had been a "nice collaboration" between the children and the puppet makers.
The two month project to build the puppets, led by Manchester-based international arts organisation Spearfish, has seen local artists and puppet makers from Spain and Italy work with 10 pupils each from schools in Accrington, Wigan, Partington, Moston and Swinton.
The pupils researched the countries and then developed ideas in conjunction with their assigned artist.
The resulting artworks included an eagle with a 7m (23ft) wing span, which represents Germany, and a 3.5m (11ft 5in) high skeleton, inspired by the Czech Republic.
Mr Dreph said the puppets had "exceeded the expectations of the children".
"It's quite a laborious process, making the puppets.
"They would come in and give us their ideas and we'd try to use as much of what they'd come up with as possible."
The artist said he had got involved with the project because he was "interested in seeing how the public interact with such large artworks".
The puppets were unveiled in front of the pupils and teachers from the schools at the festival in Manchester's Castlefield Basin on Saturday.