Man questioned over Manchester bus death phone picture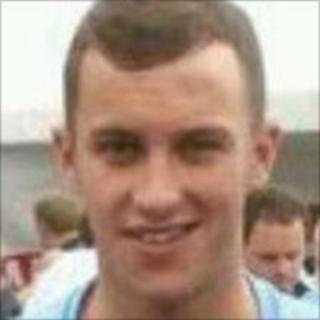 A man has been arrested after police released an image sent from the mobile phone of a man who was hit by a bus in Manchester.
David Schofield, 21, was chasing a man who had stolen his phone when he was struck on Oxford Road on 10 September.
Police released a photograph last week which had been sent from Mr Schofield's phone four days later.
A 24-year-old man walked into Longsight Police Station on 21 September and was arrested on suspicion of theft.
Greater Manchester Police said he had been interviewed and bailed until 27 September pending further inquiries.
A 19-year-old man has already been arrested on suspicion of theft and bailed until 5 October.
Mr Schofield was hit by the double-decker bus on Oxford Road at its junction with Chester Street at about 23:30 BST.
The bus driver went to help him but he was taken to hospital where he died the next day.
The driver later told police he had been approached by two women who told him they believed Mr Schofield had been the victim of a theft moments before the collision.
Contact deleted
They said he had been running after a cyclist who stole his mobile phone moments earlier and stepped into the road while chasing him.
CCTV footage of the incident has been released and last week details of the photo which was sent to a friend of Mr Schofield emerged.
The friend had noticed Mr Schofield's Blackberry Messenger (BBM) profile had disappeared from her contacts and sent a message to his phone asking to be added as a friend.
Her request was acknowledged and the user sent the picture and the name Berry, police said.
The girl, who lives in Wales, sent a response referring to Mr Schofield's death and the theft.
She was then deleted as a contact and her number blocked from contacting the phone through BBM, police said.
Anyone with information is urged to contact police.