Spleen surgery police officer force 'not excessive'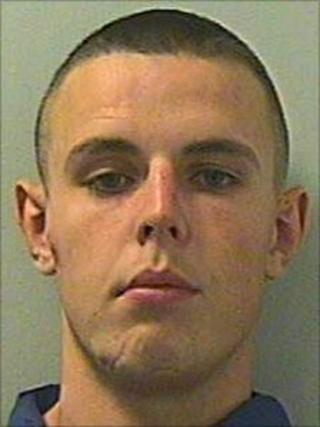 A police officer who injured a suspect who later needed his spleen removed was not excessively forceful, the police watchdog has said.
Ryan McManus and two others - Ryan Stanley and Paul Shields - said Greater Manchester Police used excessive force when arresting them in September 2010.
The watchdog also said it was concerned officers had stopped a recording of the operation while the trio were detained.
Greater Manchester Police has declined to comment on the findings.
McManus, of Salford; Shields, of Cheetham Hill; and Stanley, of Salford; and another man later admitted conspiracy to rob and were jailed.
Greater Manchester Police started a surveillance operation on the men on 10 September, after the men were seen paying close attention to a cash-in-transit security van while in a stolen car the previous day.
Firearms units struck after the men were seen following the van donning gloves and hoods, the Independent Police Complaints Commission (IPCC) said.
The firearms officers admitted using force, as it was not known whether the men were armed, the watchdog said.
A sledgehammer and screwdriver were later recovered from the vehicle.
'Necessary and justified'
One officer admitted striking McManus in the stomach and another kicked him in the upper arm as he was on the ground with his hands beneath him, the IPCC said.
Doctors said the damage to McManus' spleen was caused by blunt force trauma to his abdomen.
Force was also used by officers arresting Shields and Stanley. A Taser was used on Shields.
IPCC commissioner Naseem Malik said: "They resisted arrest and I am content the officers used necessary and justified force to bring what was potentially a very dangerous situation under control."
The IPCC said Greater Manchester Police had an "informal practice" of stopping video recording armed surveillance operations at the arrest stage.
'No legal justification'
It suggested the force stop this practice, as it would help future investigations and remove the risk of the public believing officers stopped recording to hide the use of excessive force.
The watchdog also said there was "no legal justification" for an officer ordering a member of the public filming the incident on his mobile to delete the footage.
Ms Malik said: "I appreciate the tactics used in such an operation should not be open knowledge.
"But it would assist an investigation - and the officers involved in the incident - if the whole operation was recorded."
She added: "Actions like this can only foster a perception that the police are trying to cover something up.
"This was evidently not the case but police forces must be alive to the reputational risks of such behaviour."