Consultation on Greater Manchester Police front desk closures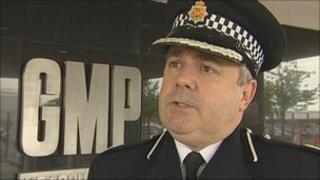 Greater Manchester Police (GMP) has started a 90-day consultation with workers and unions on plans to close more than half of its inquiry desks.
GMP wants to close 33 of 55 counters. The force said the closures would save £1.5m as it tried to find total savings of £134m by 2015.
The force said a review had found a "dramatic fall" in the number of people visiting front desks.
The average cost per visitor was £14.11, it said.
It said the busiest counters would stay open with hours tailored to demand but people had changed the way they contacted police.
It said people were increasingly contacting the force online, by telephone, and speaking to neighbourhood officers.
Assistant Chief Constable Garry Shewan said: "What we want to do is provide the very best access to our services in a way that are fit for the future and consider the current financial situation.
"This means we have to make best use of the resources we have and work in different ways by putting resources where they have the biggest impact."
He added: "Neighbourhood policing remains at the heart of what we do and we will continue to provide contact locally with officers at neighbourhood meetings and surgeries, arranging appointments and getting in touch by telephone, email or through social networks."
Councillor Paul Murphy, chair of the police authority, said: "It is essential that we modernise the way the force works in order to make best use of the resources we have available and focus them in the most effective and efficient way."