Pearl Gavaghan da Massa reunited with father in Canada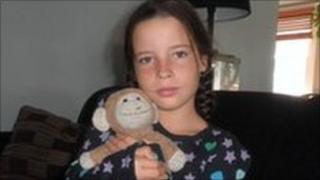 A girl from Manchester who disappeared with her mother in 2008 has been reunited with her father in Canada.
Pearl Rose Gavaghan da Massa's mother Helen Gavaghan took her to Mexico and went on to move her to the US and then Canada without legal consent.
Ms Gavaghan and Henry da Massa had joint custody of their daughter.
Pearl, now seven, was found in Montreal on 16 September. She was reunited with her father the following week and the pair returned to the UK on Monday.
Extradition proceedings for Ms Gavaghan were under way in Canada, Greater Manchester Police said.
Det Ch Insp Colin Larkin said: "We are delighted Pearl da Massa has been reunited with her father and that she has been brought back to the UK safe and well.
"Officers from South Manchester CID worked tirelessly with Henry da Massa to do all we could to ensure this happened."
'Incredible moment'
A UK extradition warrant and an Interpol Red notice were previously issued for her, following concerns for Pearl's welfare.
Toronto Police believed they were living in an "alternative community" in the city.
However Pearl and her mother were eventually discovered when police were called to an incident in Montreal.
The youngster was taken into the care of social services and reunited with her father, who has been living in Canada for the past 18 months, on 21 September.
Mr da Massa said seeing Pearl again for the first time since December 2008 was an "incredible moment".
He said his daughter had become a "video game-playing fan of Scandinavian pop princess Robyn" who now speaks with a "yeeha accent".
"But she was the same kid with the same spark, the same smile, the same kind of behaviours and the same mannerisms that had made her a kid destined for great things," he said.
'Crazy life'
Mr da Massa said he hoped to get Pearl settled in Manchester and reintroduce her to school.
She has not been to school or seen a doctor since she left the UK, he said.
Mr da Massa added: "This was not about a dad who misses his kid, or a mother who wants sole custody.
"This is about a kid who has had a crazy life and getting her back to a safe place with relative security."