Police assess cost of Carlos Tevez airport staffing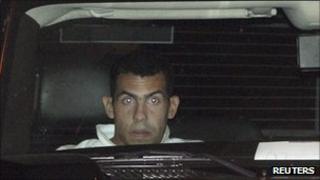 The cost of policing Carlos Tevez's arrival at Manchester Airport after his alleged refusal to play against Bayern Munich is being assessed by officers.
Police "are looking at the figures" to find out how much it cost them to deploy 12 extra officers on Wednesday.
Some fans had posted threatening messages on websites about the Manchester City striker and there was concern about potential unrest.
Costs can be charged to third parties where appropriate, police said.
Tevez's arrival at Terminal Three on Wednesday passed without incident.
'Appropriate response'
The £283,000-a-week Argentine striker is reported to have angered City coach Roberto Mancini after allegedly refusing to come off the bench and play as a substitute in a 2-0 defeat at Bayern Munich in City's first match in the Champions League.
Supt Bob Lomas, from Greater Manchester Police (GMP), said: "We received intelligence suggesting Manchester City fans travelling back from Munich were planning to stage a protest on their arrival at Manchester Airport.
"A small number of officers attended for less than an hour and assisted our airport staff in ensuring that the safety of the public as well as that of airport staff and general security was not compromised.
"It is the job of GMP to prepare for any potential threat to public order and our response was appropriate and proportionate."
A Manchester Airport spokesman said that most City fans landed before Tevez's plane and all made their way home peacefully.
He said: "We did think about allowing Tevez to use a side entrance rather than a public terminal, but in the event there was no need and he left the airport without incident and was driven away."
Greater Manchester Police's annual £580m budget has been reduced this year by £50m as a result of government spending cuts with a further £85m savings to be made over the next two years.